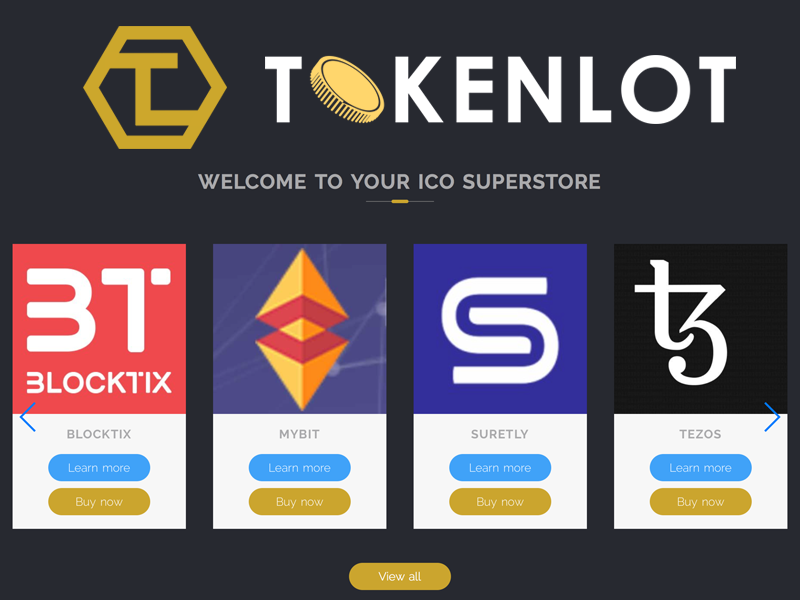 The new Initial Coin Offering model of raising funds has taken the digital currency space by storm, however, a noticeable gap exists in the quality of engineering behind the ICO's and investor's ability to easily research, purchase, and acquire tokens through a consolidated and streamlined service.
TokenLot is a revolutionary new service that provides investors of all experience levels a comprehensive platform to participate in any ICO. TokenLot currently offers three different services: Pre-ICO sales, Live ICO sales, and Post ICO sales. By giving their customers several options of ICO purchasing, TokenLot provides investors to buy ICO tokens of their choosing at any stage of the fund raising process.
Several features separate TokenLot from other services in the same sector. First, TokenLot provides guaranteed entrance into any ICO. No more waking up in the middle of the night, just to find out that the ICO you wanted to invest in is sold out in 10 minutes. Furthermore, TokeLot is the only service that provides a payment platform that accepts all digital currencies for the purchase of ICO tokens. While most ICO platforms currently accept only Bitcoin and Ether, TokenLot understands that many customers are currently holding funds in other digital currencies. By accepting every digital currency, customers can avoid the hassle and transaction costs associated with exchanging all funds to Bitcoin and Ether.
Additionally, TokenLot provides investors with the most secure platform available to purchase their ICO tokens. Unlike their competitors, TokenLot uses an escrow service to hold all customer funds that employs a multi-signature wallet scheme to assure security and risk mitigation from theft or hacking attempts.
Finally, TokenLot offers investors the ability to do all of their ICO due diligence and purchasing through one consolidated service. Although the engineering being most of the ICO tokens is top notch, the complexity of the payment platforms and the lack of access to educational information about the product itself has made the ICO investment process much more difficult than it should be. TokenLot's streamlined service allows investors with any experience level the ability to quickly research any ICO and purchase tokens without being overwhelmed by the process.
"At TokenLot, we really want to bridge the gap between the great engineering behind the ICO tokens on the market and the new wave of investors that are interested in getting involved in the digital currency space. By providing an easy to use and secure service, we strive to make investing in ICO tokens a more intuitive process", Lenny Kugel, co-founder of Token Lot, stated. David Bleznak, also a co-founder, added, "The current ICO investment process is still a little bit too complex and convoluted at this point. Each ICO currently has their own payment platform that only allows users to buy with a limited set of digital currencies and doesn't do the best job of educating investors of all experience levels about the product that they created. We hope that our service will make ICO investing more accessible to the masses".